Bộ thu và phát cài lưng Shure ULXS14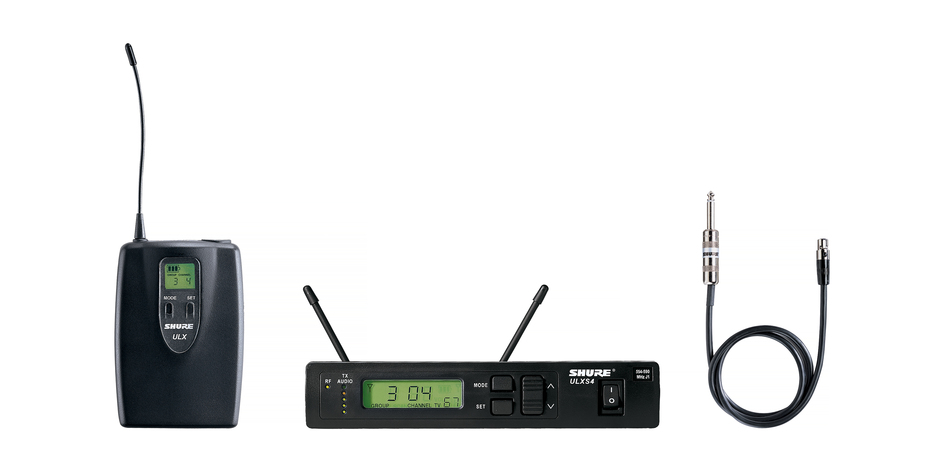 Thành phần sản phẩm Shure ULXS14
- ULXS4 Standard Diversity Receiver
- WA302 Instrument Cable
- ULX1 Bodypack Transmitter
1/ Standard Diversity Receiver ULXS4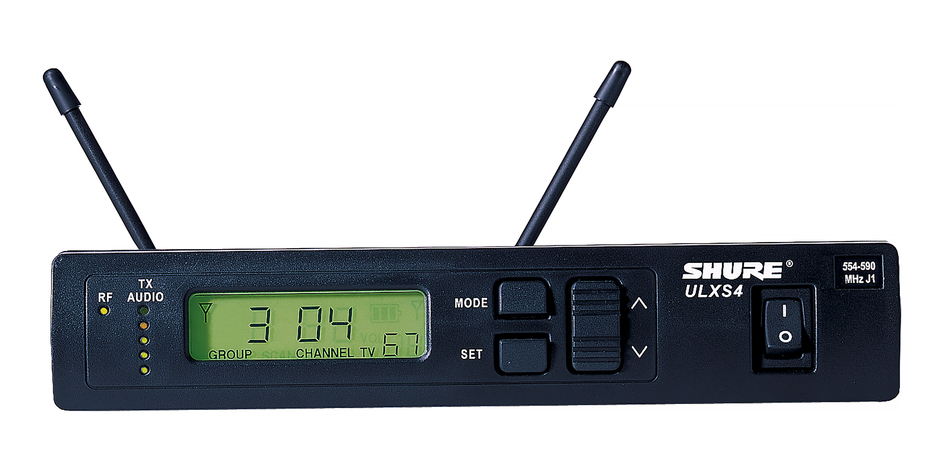 Single-channel Diversity Receiver. Up to 62 compatible systems (multiple bands).
The Shure ULX® Standard receiver offers an exceptional value in both performance and price, for both working musicians and sound installers.
The feature set of the versatile ULXS4 receiver offers a direct path to full, clear audio signals, unencumbered and unattached.
Rack hardware is not included with ULXS4 receiver.
For use with ULX Standard Wireless systems.
Note: When purchasing separate wireless components, please match their frequency bands to ensure proper system operation.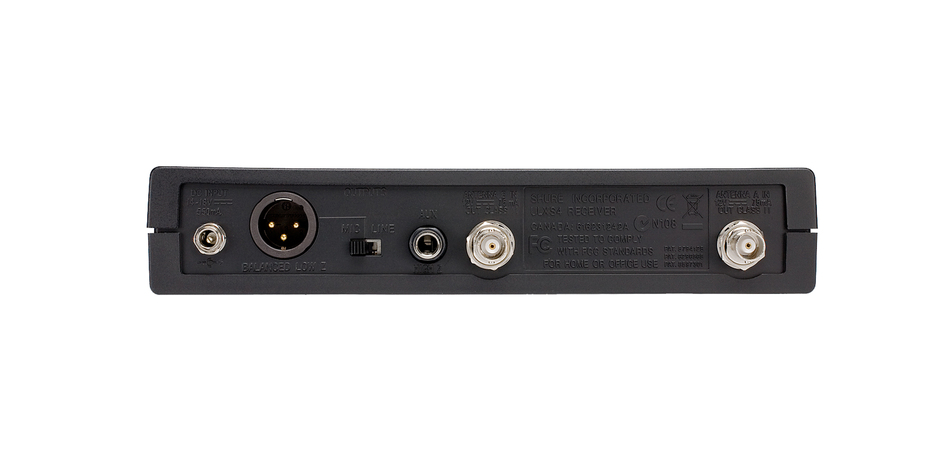 1.1/ Đặc tính sản phẩm Shure ULXS4
Automatic Frequency Selection with group scan function
Up to 1440 selectable frequencies
5-segment transmitted audio signal strength meter
RF indicator
3-segment transmitter battery fuel gauge
Advanced multi-function LCD displays group and channel
Mic/Line switch
Detachable 1/4-wave antenna
XLR and 1/4-inch output
Rugged plastic chassis
1/2 rack design
1.2/ Thông số kĩ thuật Shure ULXS4
RF Carrier Frequency Range
100 m (300 ft) under typical conditions (NOTE: Operating range depends on many variables, including RF signal absorption, reflection and interference)
Audio Frequency Range
25-15,000 Hz, ±2 dB (NOTE: Overall system frequency response depends on microphone element)
Audio Output Level
XLR connector (into 600Ω load): +8 dBV (line); -10 dBV (mic) 1/4-inch connector (into 3kΩload): +2 dBV
Impedance
3kΩ(1/4-inch phone jack) 20kΩ(XLR Line) 500Ω(XLR Mic)
Modulation
±38 kHz deviation compressor-expander system with pre- and de-emphasis
 
Dynamic Range
>105 dB, A-weighted
RF Sensitivity
1.26 mV for 12 dB SINAD (typical)
Image Rejection
65 dB typical
Spurious Rejection
75 dB typical
Power Requirements
14-18 Vdc (negative ground), 600 mA; external ac adapter supplied.
Operating Temperature Range
-20 to 50 C (-4 to 122 F) (NOTE: Battery characteristics may limit this range)
Overall Dimensions
ULXS4: 41 mm H x 219 mm W x 152 mm D (1 5/8 x 8 5/8 x 6 in.)
Net Weight
ULXS4: 0.6 kg (1 lbs 4 oz)
2/ Shure ULX1 Bodypack Transmitter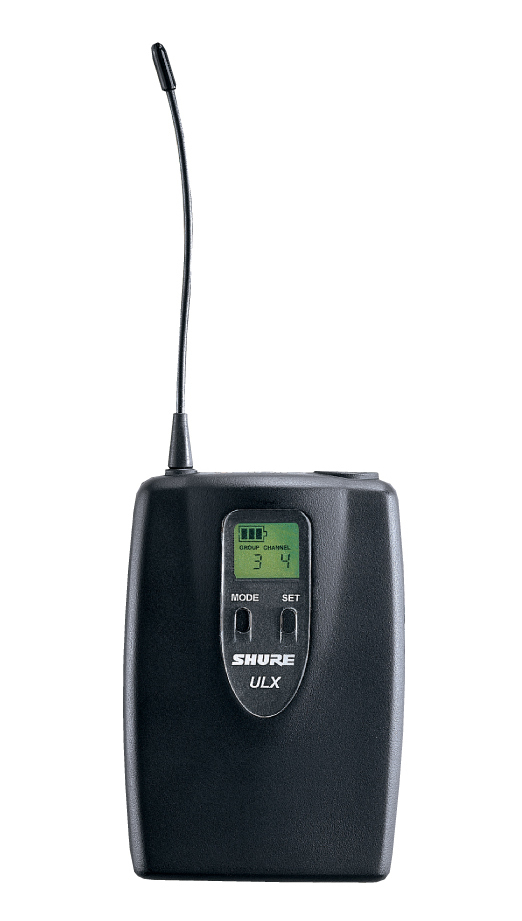 The ULX1 Bodypack Transmitter has a number of uses with ULX Professional systems from Shure, including Lavalier, Headworn, Guitar/Bass, Instrument, and system Combos.
The low-profile, highly durable body-pack ULX1 has all the characteristics to meet the demands of high performance.
For use with headworn, lavalier and instrument microphones, as well as guitars and basses. Attaches to belt, waistband or guitar strap with clip for hands-free mobility.
Note: When purchasing separate wireless components, please match their frequency bands to ensure proper system operation.
2.1/ Đặc tính sản phẩm Shure ULX1
Three-segment battery fuel gauge
Frequency and power lockout
Flexible 1/4 wave antenna
TA4F mini four-pin input connector
Backlit LCD display shows group and channel setting
Adustable audio gain control
Input attenuation switch (selects 0 dB or -20 dB attenuation)
PEAK icon appears when audio input overloads the transmitter
Power on/off switch
8 hour battery life (9V battery)
300 foot (100m) operating range
Battery Life 8 to 9 hours (with 9V alkaline battery)
Weight 79 g (2.8 oz.) without battery
2.2/ Thông số kĩ thuật Shure ULX1
Gain Adjustment Range
40 dB (continuously adjustable)
Impedance
input: 1 MΩ
RF Power Output
30 mW maximum (dependent on applicable country regulations)
Power Requirements
9 V alkaline battery (DURACELL® MN1604 recommended); 8.4 V optional
Battery Life
Up to 8 hours
Overall Dimensions
95.2 mm H x 63.5 mm W x 33.3 mm D (3 3/16 x 2 5/8 x 1 1/16 in.)
Net Weight (without battery)
90.7 g (3.2 oz)
3/ WA302 Instrument Cable
Cable, Instrument, 2.5 foot (.75 m), 4 Pin Mini Connector (TA4F) to 1/4-inch Connector.